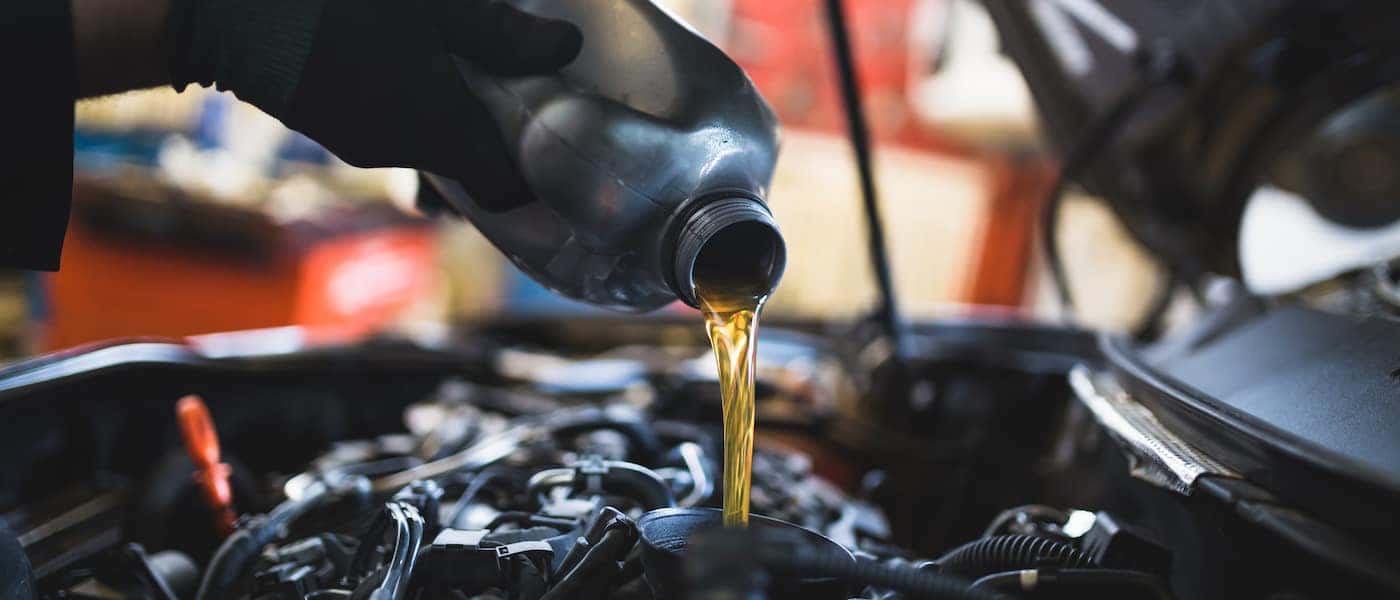 It's generally accepted that you should change the oil in your vehicle every 3,000 to 10,000 miles for an optimal driving experience on the roads of St. Clairsville, OH. The exact recommended oil change frequency for your specific vehicle will depend on a variety of factors like what kind of car you drive, how old it is, what kind of oil it takes, and more. So, how often should you change your oil? Check your owner's manual or contact us here at Elm Grove Chrysler Dodge Jeep Ram for a model-specific answer. Meanwhile, read more oil change tips & tricks below.
Learn Your Recommended Oil Change Frequency
Though changing your oil every 3,000 to 10,000 miles is a broad suggestion for when to change your oil, some vehicles in and around Martins Ferry, OH will need their oil changed even sooner. Is yours one? If you frequently engage in the following driving activities with your vehicle, you should reach out to our service experts to see what your recommended oil change frequency is:
Commercial use
Racing
Off-roading
Heavy towing
How Often Should You Change Synthetic Oil?
Do you regularly use synthetic oil in your engine? If you do, then your recommended oil change frequency will be less frequent than if you use conventional oil. That's because synthetic oil breaks down less quickly than conventional oil and provides enhanced lubrication properties. If you use synthetic oil or are looking to make the switch, you could wind up having to change your oil between 5,000 miles to 15,000 miles! It all depends on your vehicle, so we recommend you check your owner's manual first. Then ask our service experts for advice about how often you'll need to change your oil.
What If You Don't Change Your Oil Regularly?
Engine oil ensures that your car works normally as you drive around Steubenville, OH. It lubricates the internal components of your engine, reducing friction and preventing overheating. It also collects impurities and carries them into the oil filter. But over time, these impurities collect as sediment and the oil gets "gummier" or more viscous. When this happens, it needs to be replaced. If you notice that any of the following things, that could also be indicative of an oil change being necessary for you in the near future:
Knocking sound coming from the engine
Dark and dirty oil
Check engine and/or oil change lights are illuminated
Engine overheating
Smoke emitting from the exhaust pipe
Additional Oil Change Tips
Call our service center at 304-907-1441 if you have any additional questions about how often you should change your oil. In the meantime, it's wise to keep these additional tips in mind:
If you're an infrequent driver, it's still a good idea to get your oil changed at least twice a year.
When having your oil changed, you should also always have the filter changed. Our parts department can help.
Wondering whether to use synthetic vs. conventional oil? Check your owner's manual. It's possible that your vehicle may require it.
How Often Should You Check Your Oil Level?
A car's oil system usually works without many issues to keep the engine running smoothly. But sometimes, the oil level can fall, and other issues can ensue. It's a good idea to check your oil level every month to make sure everything is in good shape. If the level is low, your vehicle may be at risk for serious damage. When checking oil level, be sure to also watch for any change to your oil color or metal shavings in the oil, which are indicative of major issues. If there is doubt, schedule a service appointment.
Rely on Elm Grove Chrysler Dodge Jeep Ram for Oil Changes
You can rely on the experts at Elm Grove Chrysler Dodge Jeep Ram to help you with all your oil change needs. Not only do we provide a convenient place to go when it's time for an oil change, but we'll also hook you up with money-saving service specials because we want you to have access to the best deal possible when it comes to maintaining and repairing your car!